The Mind Behind This
| home | facebook | myspace | twitter | formspring |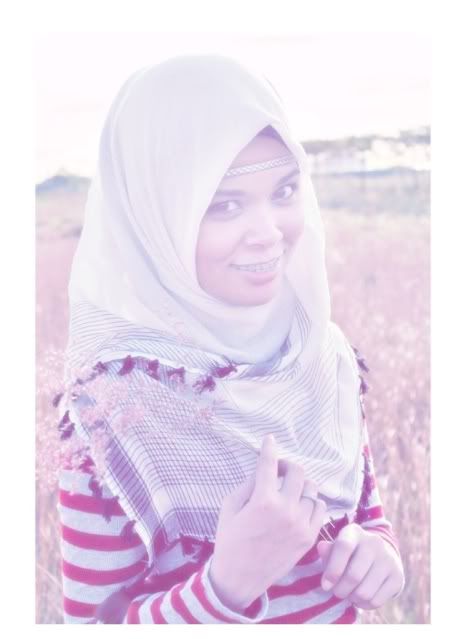 SCHA.
I am one of ALLAH's creation. :)
I am more of the suffer-in-silence type.
One with a tiny chunk of Internet to rant, reminisce and stick random things in.
I listened to this
Tagboard
Feedjit
Archives
//Friday, October 30, 2009 4:45 AM
Bottom of my heart
Salam. Hello guys. At this hour people already having their wonderful sleep mimpi yg indah2.. but not me.. This whole week effa like suffering insomia again! OMG... damn sickening.. Difficult for me to get a nice sleep. Maybe becoz effa banyak sgt berfikir and yes it is! It's keep bothering me all the time.. I can't rest in peace.. I can't even concentrate on everything i do. Aite now pun mcm nak migrain.. I don't know how long I can stay hang on like this.
As human, as a girl, to me this is the biggest problem I ever face. And I deal with it. It's the hardest thing to do and i can't hang on living like this. People may think im a strong girl. sy fun, easy going person, xmatang and i can deal with this easily and i always look fine and happy in front others. But only God knows what im going thru now. We can say things that help to ease the pain. I reli appreciate what my frens told me. I really do, thanks tapi selalunya its easier said than done.
We plan, We hope, we pray but it still His call. kalau Dia dah tentukan mcmtu, macamtu lah jadinya. We only can pray and tried our best, dont give up and give the hardest to fight for what we want but things don't always turn out the way we want. Aite? So kita telan lah walau sakit mcm mana pun. Sy ada bahagian sy, dia ada bahagian dia.
Im dealing with it now. Its time, my time. Effa terpaksa deal dengan so many terrible things now and theres no way to escape from it. I reli hope that it happened for good. Sy kurang bernasib baik, bila benda ni berlaku jugak ke atas sy. its sad. really sad. I just need some time and space to refresh my mind. We forgive and forget, no hatred, suci dan clean our mind and be somebody new. Its part of life, a process that can better ourselves, and make us stronger.
Thats all for now.
Thanks for reading.
Take care.
Love u guys.
:)
Labels: him
//Tuesday, October 27, 2009 4:44 PM
kelly clarkson
seriously love this song damn much! the lyric means everything to me. enjoy listening! =)


//Monday, October 26, 2009 4:03 AM
Crisis
We really need to confront each other face to face and clear things out.
Plz.. I can't stand this any longer..
Just let me know.. Tlg jgn lari dari masalah..
Be frank with me.. Don't hide ur feeling..
Labels: him
//Wednesday, October 21, 2009 11:07 PM
Crisis
Oh God.... Ya Allah.. why i have this such a bad feeling.. I couldn't help myself.. I tried to against this feeling.. 4 months lately.. Everything is just a mess.. Selalu sgt ada misunderstanding, fight dlm diam.. But both side just kept quite without telling the truth what we act felt inside. Like there's no solution to this problem anymore. It's not that i don't want to be frank with u and tell all i feel inside.. But i can't.. I afraid if something bad may happen next.. I really need to avoid any argument from now.. i can't stand it.. I'm stress out.. That's why i refuse to explain clearly about this matter toward u.. I really don't know what to do now..
I'm totally lost..

What should i do now...The thing is lately aku selalu sgt terasa..kecik hati..
I'm not asking people to feel sorry for me.. but be more realistic.. Aku rindu masa dulu..
terlalu..
People will changed and can't stay the same way.. Time will definitely make people be more mature and fair to everyone.. So plz understand me.. There's so many problems comes out and i can't hang on any longer..
Am i such a bad person?
Am i too egoist?
Too hypocrite?
Selfish?
What should i do to stand this relationship.. Aku dah cuba rendah kn ego aku but nothing change.. I have tried so hard that i could to understand but thing become even more worst.. I don't have any strength to face it.. Ya Allah..permudahankanlah jalan hidup aku..
Labels: him
//Sunday, October 18, 2009 12:56 AM
My confession
Parents

Salam everyone. I have been through my very2 bad day today. Worst day ever! I did felt like this quite so many time before but every time I felt disappointed, I started to think twice. I felt at fault whenever I can't accept my parents order. Is it me the one that should be blamed for all this while?

I feel like an alive machine that has been programmed to follows all their rules. This is so unacceptable for me..for a teenagers like me.. Everyday I must be at home by 7am. sharp! Like a military school! Unless, I will rather received a non stop calls from my mom marah2 tanya "bila aku nak balik rumah xingat nak balik rumah dah ke?". Atleast at 10am will be ok i guess.. Lgpun today public holiday all roads are busy with jammed sane sini. Tak kan xboleh nak consider langsung..

Come on laa.. I also need freedom. Until when i need to keep depending on others.. Or else if u are to afraid of letting me out, why don't u just made your own plan for not giving me a well education and honoredly arrange for my marriage if thats only will make u satisfied! So u don't have to worry about me anymore rite?! Just do whatever u wish! This is sooooooo unfair! U are too selfish! I'm only ask for my own privacy.. My own time.. Is that too much? By then.. I have to stay at home..great u all with a nice smile perhaps just like a "penyambut tetamu"? Plz...... I can't stand this..

I felt soooo ashamed today with my friends..and of coz my lecturer.. By 9am. bising2 tanya "xreti nak balik ke?" OMG..... Whats this... I'm not going anywhere..I just somewhere near around with my lecturer and my other college friends.. For more than 3months I just stay at home like an housewife no outing no meeting my friends outside. Can't u give me a chance for this time..? How do u wish that happen to u??? can u accept that? And later when I arrived at home everyone just.. "....................................................................."
kept quite without a single words.. Doesn't felt guilty at all.. Why? U guys don't have a feeling isn't it..? Whats all this about to u.. Tell me.. Is this how u show that u cares for me? Or actually..takot aku keluar menggatal dgn laki dating dgn boyfriend..? I think this is actually in your mind.. Why u guys being so unfair towards me.. So ridiculous! I knew it..

Enough.. Stop treating me like a statue. I'm also a human being who have feelings too.. And I do feel hurt whenever people treat me like this.. Why can u give me much time just to find little happiness out there and chill with my friends.. I need to release myself too.. Don't labeled me like I don't have problems at all. I do felt down so many time.. But do u know that? U will never understand me.. That's all i asking for.. Is that too much for u? Or I'm the one who asked too much from u guys? Answer me.. Plz..

I can't stand carry one living like this.. It's give me to much pressure. How I wish I have my own life living with my own way.. Do my own things.. My own privacy as well.. At least give me a chance.. I must be at home at 10am. That's wasn't look to hard for me to follow..

Look.. I'm already 20 years old.. Being a teenagers is so unpredictable things when the time comes.. and u really needs a changes to widen your mind..exploring something new in your life time.. I'm not trying to be smarties enough here but i guess people should change their perception on how to learn about others as well. Parents should understand that their children are getting older and they should let their children be more independent on how to deal with life. I will never forget what my parents has told me no matter how far i go.. Why must people treat me like i am still a child? It's so extremely wicked! So mean.. Until when u want to keep control me like this? Can't u sacrifice a bit for me?

It's like a rebellion to myself now.. Fighting with myself and at the end I am the one who at pain.. I couldn't help myself.. My life just a mess.. Living here for other people satisfaction.. They never know how I feel inside..deeply inside.. How hurt I am... I feel so down now.. May God give me strength and happiness that I always want for this while. Ameen..

Thats all for now.
Thanks readers.
Love u guys.
Take care and be safe.
:)


//Wednesday, October 14, 2009 11:24 PM
Perlu ke tulis blog dalam bahasa inggeris baru org pandang kita ilmiah?
Hye all! Salam. Just now effa adela terbaca satu blog ni kan.. And she says that "perlu ke tulis blog dalam bahasa inggeris baru org pandang kita ilmiah?" wah! this is reli a big issue babe! terasaaaa nih! hahahaha..

It's not that perlu or tidak kan.. Tp in my own opinion la kan.. Itu hak individu.. Blog itu adalah satu priority org.. Unless org tu nak show off yg dia hebat or what betul x? But for me of coz no la babe.. Niat effa just nak improve my language ajer..thats all.. bukan nak belagak or what.. Follower pun berapa kerat sgt la pun kan.. Bukan famous pun.. What for nak kerek2 pulak.. Improve babe!!! But remember ha blog is not a good diary sbb orang boleh baca! hehehe. Lgpun effa ingat lg last time when i was in high school.. my english teacher mmg anti sekali dgn org yg buat tafsiran sendiri whenever people use english.. Ok gini la kawan2 ku sekalian.... cuba think positif cket kasi la moral support kn org nak improve.. Jgn la nak kondem aje.. Iye tak sayang.... Atleast blh la tlg kita nak communicate well in english ke.. Tambah2 lg time sudah bekerja nanti kn.. Even gov pun da semakin push rakyat malaysia supaya use n learn english as well.. Bukan bermakna kita lupa diri atau lupakan bahasa ibunda kita.. Melayu dihatiku babe! Mana boleh hilang title tu.. Rambut color2 pun luaran je.. Inside still melayu.. iye tak.. hehehe..

Sekian terima kasih.
Love u guys.
Take care.
:)


//Monday, October 12, 2009 6:09 PM
7 years to come
Hello readers, how re u? hope u guys doing fine out there. Its been a while I'm not updating n blogging bout myself here. Kindda miss it..

Suddenly i was thinking..its come without knowing the truth behind all that may happen soon. Something about life that we never know. 7 years to come i already 27 years old.. Start counting for that.. And yeaa.. I'm getting older.. Ermm.. I kept questioned my self again and again. Who am I going to be soon? Am I a successful person and living with a great life instead of meet so many new people out there? Having a wonderful career? And.....last question.. Am I really ready to settle down in that moment..? I kept questioning myself about all this silly things over and over again. Its kept playing in my mine.. I can't deny it.

Sometimes people only can ask, hope and say about what they always dream to be in their future. A target that they aimed to achieve sooner or later.. All these things randomly been called as a "dreams".. yalah ape lg kn! No matter girls or boys, young or old everyone have their own significant ways on how they think about it.


Questions:

"Who re u gonna be with in ur life time?"
Do u think all this will happen just like what u always want..?
Do u think a long relationship which is u re in now will guaranteed u a perfect life.. Do u think ur partner think the same way too? Sorry..its just a question.

Life is just too much complicated and complex than what we always think it is.. Sometimes, too much aspecting for something from people around u is just worthless becoz its can't promise u anything. Perhaps, life is like a drama.. People around us are the director and we be the actress/actor. We have to act good in front or bad behind others. Although we want or not we have to face it. And that's how a real life shows. Living life is having a wonderful life with others. And that's true..

So, i guess there's won't be a typical things for us.. Just let it be and leave it to God. I think that the best way. I will forever love myself and thankful to God for letting me live in this peaceful world. My ambition to have a great job and earn my own money. Uh! can't wait for that! hahaha!

Lastly, thanks to all who know me.
I love u guys a lot.
Till here.
Take care n be safe.
:)

Labels: him