The Mind Behind This
| home | facebook | myspace | twitter | formspring |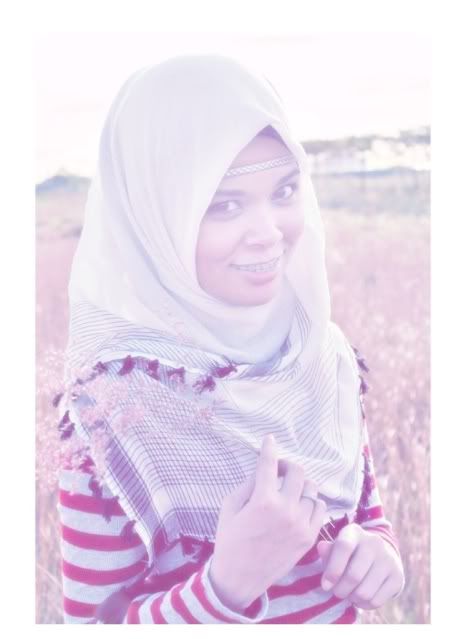 SCHA.
I am one of ALLAH's creation. :)
I am more of the suffer-in-silence type.
One with a tiny chunk of Internet to rant, reminisce and stick random things in.
I listened to this
Tagboard
Feedjit
Archives
//Tuesday, April 27, 2010 1:40 AM
currently mode
anger
mad
frustration
disappointed
point less
sadness
broken
untruthfulness
misfortune
hurt
painful
not fine
unhappy
miserable
insane
hot tempered
being ridiculous
delusional
irrational
undesirable
lost
everything is just complicated..
:(
//Friday, April 9, 2010 12:18 AM
Should I continue..?
Salam. First of all i would love to say something here. I am soooo happy for my friends who already found their true love and partner life who is really care for them. I am so happy for all of you my dear. I will pray for your happiness my darling :)

Secondly, for behalf of my own self, i am now trying to remove all the negative thoughts which has burdened me for all this current time. I have to get away from it. So, i think i should be temporary away from all these shitty things. I am now taking a break for a short while, resting my mind which is currently unstable.

And i am not activating or updating my social network such as facebook and etc as well, except for yahoo messenger. Just for a short while my dear fellows..

Haaa...but if there's any important things that i might get involve in the social network, then i will consider it to appear on9 back. Okei? ;)

Hope you guys understand.
That's all.

Thank you.
your sincerely,
effa
:)


//Tuesday, April 6, 2010 10:20 PM
Not a fine day
Salam. Hello people, it's been a month and i have been pretty stressed out.
Boringggggggggg....
seems like i have been saying that a lot lately. And yes! i admit it! sorry to everyone if it's kindda annoying to all of you. I'm not trying to gain your attention, but that is what i felt and i can't deny it. So, i'm going out today. And yes! i'm going out alone. no company. Ahhh..it's ok i just don't bother. It's true that i felt a little bit awkward going out alone but i don't mind it.
So, I went to find for a novel. Perhaps it can help me in reducing my boredom again after this. Okei i got my novel now. What next? Okei..since i haven't eat anything for two days, so i went to mcd to have something to eat. Actually i'm not really hungry but i don't really know where else can i go. So, just eat up! Well..like you all know, i can't finish my meal so i decided to bring my fries back home.
Next, heading to acewin to find for a blue dress that i have been wanted this while. But, unfortunately, that dress are gone already. Poor thing.. :( So, i decided to buy other dress since there is no more stock for that dress.
Next, since my aroma therapy already finished. So i thought like going to snj shop but i forgot what level is it. Going up, up, going down, down. Ohh okei.. i'm lost! :) I can't find the shop and i straight away heading to the entrance and then go to the car park, take my car and drove it back home.
Thats all.
Love ya!
:)