The Mind Behind This
| home | facebook | myspace | twitter | formspring |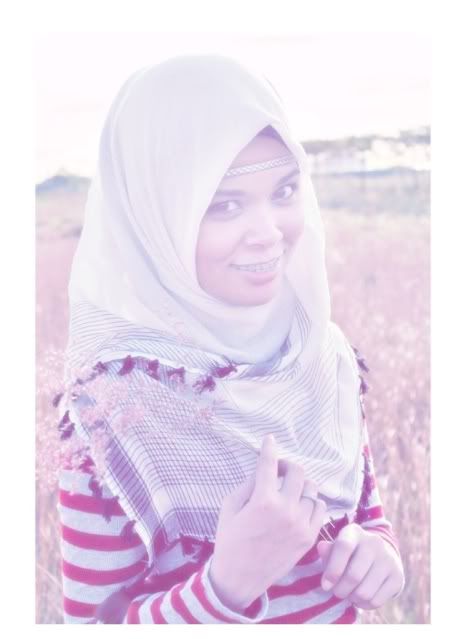 SCHA.
I am one of ALLAH's creation. :)
I am more of the suffer-in-silence type.
One with a tiny chunk of Internet to rant, reminisce and stick random things in.
I listened to this
Tagboard
Feedjit
Archives
//Friday, December 21, 2012 6:41 PM
Emotions.
Assalamualaykum w.b.t.
Hello readers. We meet again here. Well, it's raining heavily at my place right now. The sound of the rain make me feel a lilttle bit calm and I find peace in the rain.
Rain understand me well about what I feel right now..
//Wednesday, December 12, 2012 12:20 AM
Happy Anniversary Sweetheart.
To my dearest one.
Happy first year anniversary sweetheart. We began as strangers. We became friends. We became one with each other... We remain as one forever.
Here's hoping that your special day. Will be more 'happy ever after' With all the joys of friendship, Love, fun and laughter.
Knowing you'll be in all my tomorrows, makes my today so wonderful.
#1 I feel so protected and safe when you're around me.
#2 There's no guy in the world who can understand me better than you do / I never feel like I need to
hold back while talking to you.
#3 I enjoy your company more than anyone else's in the whole world.
#4 I just don't know how you can listen to me so patiently, even when I'm complaining so much about
#5 You are such a chivalrous gentleman when you're with me.
#6 You always know how to make me smile even when I'm down.
#7 I can't believe how lucky I am to have you.
#8 You're the manliest guy I've ever met.
#9 My world is empty without you.
#10 I love the way you brighten up the room.
#11 Before I met you I never knew what it was like, to look at someone and smile for no reason.
#12 I can be myself when I'm with you.
#13 You love me with all my faults.
#14 You are the most beautiful thing that has ever happened to me.
#15 You never make fun of me even when I look like a clown.
#16 You never get bored of things I go on saying again and again.
#17 You are so caring.
#18 You are such an inspiration to me, you are the light of my life.
#19 You understand me even when I'm sobbing.
#20 You listen to all that I say, but you understand all that I don't.
#21 You at least pretend to do what I suggest.
#22 You are like my pillar of support, I can fall back on you at any time.
#23 You know how to bring a smile on my face.
#24 I love all the sweet night talks and the feeling of you being around.
#25 You add color to my life, a sparkle to my eyes.
#26 You shower me with flowers.
#27 You are never too busy for me.
#28 You have seen me at my worst and you still love me.
#29 You are that someone who makes happiness happen.
#30 You are my best friend.
Just the mention of your

name

makes me

blush

.
He's funny, he's adorable, he's sweet, he's loving, he's awesome. He's perfect. I didn't say a name, but he popped into your head, didn't he? :)
Sometimes, someone comes into your life that changes everything. Raises your standards, makes you laugh, and makes you feel like you. There is something about him that you can't put into words, and even though you're not even with him, you don't want to let him go.
"I can't promise you a perfect relationship
without arguments over our differences
and trust issues, however, i can promise
you as long as you're trying, i'm staying."
You're that one person i couldn't imagine life without.
I love talking to you from when i wake up to when i fall asleep.
I love how cute you are. from your smile, to your laugh, to your voice.
The things you say are the absolute sweetest, and you're just plain adorable.
Please never leave my side, i wouldn't know what to do.