The Mind Behind This
| home | facebook | myspace | twitter | formspring |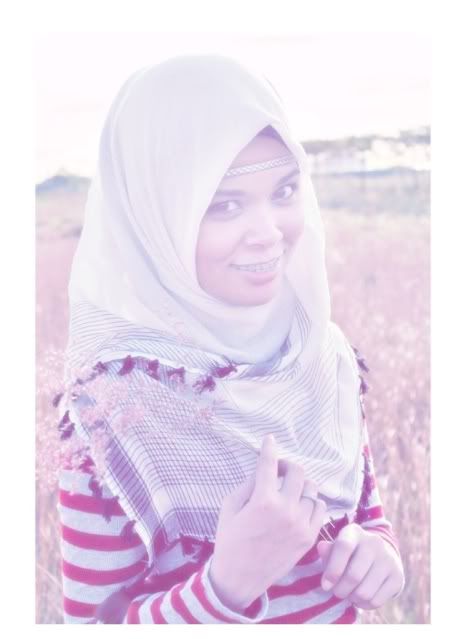 SCHA.
I am one of ALLAH's creation. :)
I am more of the suffer-in-silence type.
One with a tiny chunk of Internet to rant, reminisce and stick random things in.
I listened to this
Tagboard
Feedjit
Archives
//Thursday, March 22, 2012 8:23 PM
Wedding!
Assalamualaykum w.b.t
Well, what a busy weeks! but a GREAT AWESOME one I can say! We are preparing for my brother's wedding reception. Weee.. Sukesuke! He's finally married now! Alhamdulillah.. Happy for him :)
Such a wonderful lovely wedding. :) Meeting all the family members. I really miss that moment so much...
// 8:09 PM
Hello World!
Assalamualaykum w.b.t
Helloooooooo bloggers! It's awfully long since I've last entered here. It's already passed months over a year! and now I have seen lost in here and I don't know how to start again. Haha.
There just too much in my head. Too many things happen recently. Yes No to- the- other- side. Good all the way and just a little bit at the bad side of it. That's what we call life. Fair enough. And I really wish I can let it out and share with all of you here. Oh by the way, it's no longer a broken hearted issues anymore people. Haha so sorry for making you feel horrible seeing me completely happy now. Jelous? Irritates? Annoyed? Oh my.. go ahead! Like I care! haha A BIG SMILE ON MY FACE NOW! ;) ;) :')
But on the other side of it, all I can say is I am definitely happy now. Far far a lot happier than before. Yes, I am. I finally found that one special person that I'll be afraid to lose. Hard to explain, but when love conquers everything, the happiness will endures everything for the life time. Alhamdulillah syukur Ya Allah.. :)