The Mind Behind This
| home | facebook | myspace | twitter | formspring |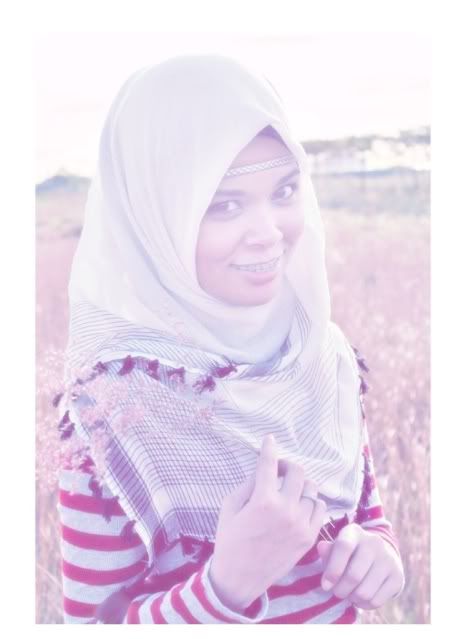 SCHA.
I am one of ALLAH's creation. :)
I am more of the suffer-in-silence type.
One with a tiny chunk of Internet to rant, reminisce and stick random things in.
I listened to this
Tagboard
Feedjit
Archives
//Sunday, August 21, 2011 2:02 AM
Kata- kata
"Jangan kau tersenyum pada orang buta, dan jangan kau berbisik pada orang tuli"
Saya kagum dengan kata- kata diatas. Besar sungguh penggertian kata- kata ini bukan..? Dan sebesar mana pula fahaman anda?
//Saturday, August 20, 2011 12:37 AM
Untitled.
When was the last time you felt so completely happy it was like time had stopped?
//Saturday, August 13, 2011 1:34 AM
Fahami Ia Dan Jangan Disalah Ertikan.
Assalamualaykum w.b.t
Hi everyone. How's your ramadhan doing so far? Hope each days of yours went well and may we have a blissful ramadhan this year. This month provides us a chance to get rid of sins and to become closer to Allah. I wish you all the days of Ramadhan with great peace and prayers.
And so, did this ever crossed your mind before? few people usually been known as Berselindung di sebalik Kaabah. I am not talking about Kaabah here but it is something parable issues about behavior. When muslim are using the beautiful name of Islam to hide their true attentions towards something that clearly dissent with what Islam really is. That's comes riak, pretending and dishonest with their own self.
Berselindung Di Balik Kaabah actually is a telemovie that honestly shows the realities that happen nowadays. Same to do with a malay drama called Tahajjud Cinta on tv3. Don't be mistaken that all dramas are just wasting time but this time I do recommend you to watch these.
Some part, it helps us in finding our self and learning to be a good modesty muslim. InshaAllah..
May we take benefit from this Ramadhan more and more.
//Thursday, August 11, 2011 10:46 PM
Untitled.
"

The heart has its reason that reason does not know.

"
A true liners to bring up a smile.
If Allah say Yes, Allah give u what u want. If Allah say No, Allah give you something better. If Allah say wait, Allah give you on the right time. Whatever Allah said, Allah always give you the best ever..
//Wednesday, August 10, 2011 12:35 AM
Remember..
//Monday, August 8, 2011 2:33 AM
Somehow..
Somehow.. We can't simply define people will always look good and cheerful without sadness. The frustration inside. The hardest part of it.. We can't never change our feelings the loved towards people that used to be parts of our life.. And now to convert love to friendship. That's hard.. And that's impossible to be done..