The Mind Behind This
| home | facebook | myspace | twitter | formspring |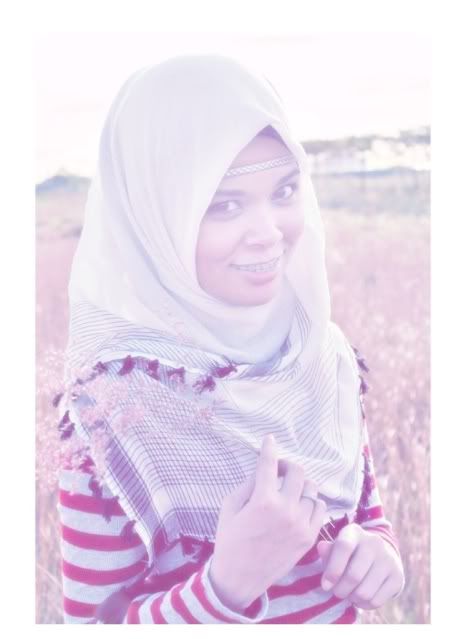 SCHA.
I am one of ALLAH's creation. :)
I am more of the suffer-in-silence type.
One with a tiny chunk of Internet to rant, reminisce and stick random things in.
I listened to this
Tagboard
Feedjit
Archives
//Wednesday, June 29, 2011 12:41 AM
I am Empty.
"Dance like no one is watching.
Sing like no one is listening.
Love like you've never been hurt
and live like it's heaven on Earth."
— Mark Twain
I think this might actually apply to writing as well. Write like no one is reading. Hmmm… Write like no one will ever read the things I write, not even myself. Hmmm…that's a thought. Rest in peace. I'll definitely feel lonely and empty without you.
If I knew that I would never again read the things that I write, I would write whatever I want. Free write, basically. I would just keep going, the way my mind is going…try to catch up with it.
I might even forget punctuation and maybe tpye thngis out of ordre.
But I know.. It just a thought..
//Wednesday, June 22, 2011 12:02 PM
Sunyinya..
Assalamualaykum w.b.t
Hello readers. Alhamdulillah everything went well. I've already submit the letter to the admin this morning. Tapi saya dah mula rasa sunyi yang teramat sangat.. :(
// 12:52 AM
I Still Can't Forget Him.
There may have been someone who mattered to you the most,
someone who would light up your day and keep you happy. And he still does until now..
//Friday, June 17, 2011 9:31 PM
A Doa.
"Ya Allah when I lose hope because my plans have come to nothing. Then help me to remember that YOUR love is greater than my disappointments and YOUR Plans are better than my dreams. Ameen."
Ya Allah I love YOU so!
Please I beg YOU!
Never ever let go!Ameen!
Ya Allah my heart is hard!
My mind so low!Raise me up!
Raise me from below!
Ya Allah feeling so sad!
Can't count my sins for feeling bad!
Forgive me please forgive me!
Please don't be mad! Ameen!
Ya Allah I love YOU so
Help me at every corner
Help me at every door
Ya Allah forgive me
I am begging YOU so
Ya Allah my life is full of sins
Wash them and make me pure
As pure as white soft snow
Ya Allah I spend my time in vain
Help me to use it to gain
Shower me with wisdom and fame
Ya Allah I beg of YOU all good
All the piety and all the Truth
Ya Allah please do not ignore me
I am an insignificant crow
Black and ugly and very low
Ya Allah raise me up
Lead me to YOUR Door
Ya Allah I love YOU so
The beauty of this world has made me blind
So hateful and so old
Please hold my hand please do not let go
Ya Allah bless me with precious friends
Those whom who adore and admire YOU
Those whom YOU love
Those who pray and and never ever tired
Ya Allah I love YOU so
Please listen to me please
Please I beg YOU so Ameen
Ameen Ya Rob
// 8:58 PM
I am currently
I am currently countdown the days until Ramadhan.
I am currently not well.
I am currently sick of fb- ing.
I am currently bored. Highly boredom i must admit.
I am currently tired confronting with people behaviour in fb. (only few of them, please don't get me wrong readers) :)
I wonder why everyone craving to be a different person.
A pretty comman way of becoming famous among the rest instantly.
So sorry i have to say this.
Astagfirullah alazim.. Forgive me Allah for being such a bad thinker or offend anyone..
//Thursday, June 16, 2011 1:03 AM
Think.
It is hard to believe the contradictions in our precious lives today.
We spend more time but have less.
We buy more things but enjoy less.
We waste today yet busy preparing for tomorrow.
These are the times we do our best only when one is noticed.
Our educational institutions are no longer models of knowledge.
We have multiplied our possessions but reduced our values.
More conveniences but less time.
We have more graduates but less sense, more knowledge but less judgement.
We have more experts but less solutions.
More medics but less healthy people.
We have learnt to make a living but not life.
We have added years to life but not life to years.
We have conquered outer space but not the inner space.
We have cleaned up the heart but polluted the soul.
It is ironical that we have split the atom but not our prejudice.
Quite shameful that we have higher incomes but lower morals.
We have become long on quantity but short on quality.
We are more concerned with the label than the labelled.
We read more but master less.
We promise more but give less.
These are times of strong men but weak character.
More leisure but less fun.
More types of food but less nutrition.
Very flashy weddings but more separations.
These are times of fancier houses but broken homes.
Times of much work but low pay, less work but more pay.
It is hard to believe!
//Saturday, June 11, 2011 11:28 AM
Absence.
Hello people. Assalamualaykum :)
I have been absence for quite some time here. Been away for 2 weeks. Did anyone miss me ? Hahaha ! Kidding !
I just got back from travelling, such a looooooong runaway journey i can say. I fly to Kuching, Sarawak and straight away drove to Miri on the next day. It takes about 12 hours to reach there. As you know East Malaysia don't have highway. Can you guys just imagine how far and tiring it was... Huuuuu
I stay at my sister's place in Miri for 4 days. Then drove to Sabah by entering Brunei Darussalam. So I get to see part of Brunei's land as well even though not the whole of it. It was fun and exciting seeing other people country.
Since I hesistate to go to Sabah, and so now we went to Sabah. Jauh sekali.. Tapi saya suka :)
3 days in Sabah won't be enough for me actually. But... It's far away better than nothing la kan ? Hehe.
And so now, drove back to Miri, stay there for couple of days. Fly to KL. Spend a night there and fly back to Penang..
Pheauuu.. Exhausted.
That's all for now.
Take care people.
Wasalam.