The Mind Behind This
| home | facebook | myspace | twitter | formspring |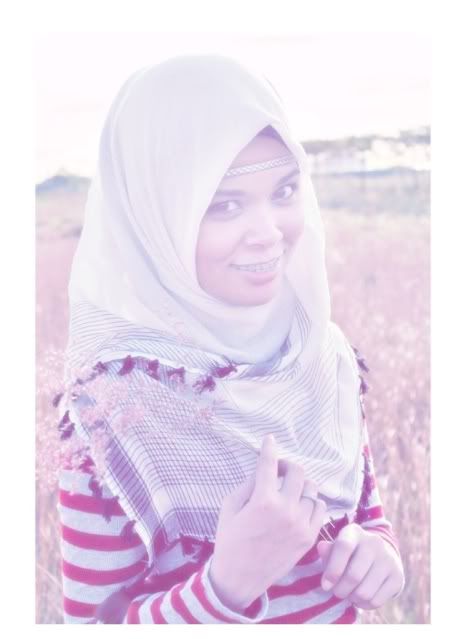 SCHA.
I am one of ALLAH's creation. :)
I am more of the suffer-in-silence type.
One with a tiny chunk of Internet to rant, reminisce and stick random things in.
I listened to this
Tagboard
Feedjit
Archives
//Sunday, September 26, 2010 7:50 PM
Somehow I Still Miss You.
Times really flies, months have passed just like that. Although I don't feel so hurt like before but I still miss you so much. I miss your voice but I have no guts to say it to you. Sorry I just miss you.


//Sunday, September 12, 2010 4:27 PM
I am so disappointed!
Dear nasi beriani, nasi impit, lontong, cheese cake, cake lapis sarawak, chocolate moise, carrot cake, baked macaroni and cheese, kuih raya and many more.
As for today, after struggling prepare all the dishes.. theres a open house were held at my place inviting all our close friends for Eid. and the biggest thing i'm regretted is..? I've invited bunch of friends two days before the exact date. But..? only one of them is here. Where the rest ? I have no idea. I am soooooo frustrated today. Only azam which is my best friend is coming with his sister and few other college friends. what about my ex school mate ? None of them were here.. I did texting them but they didn't hit me back. I'm not mad actually but I am fulled of frustrated. Only my sister's friends were coming. How I wish I have a friend like hers.. Sad but true.. Sabar effa..sabar...
//Thursday, September 9, 2010 3:05 AM
Salam Aidilfitri buat semua.
Assalamualaikum and hello dear readers. Update! hehe..
And so, I don't really remember what is the name of this cookies but..... This is the hardest cookies I have ever made so far. Huh! The texture was so smooth and fragile until it can be fracture very easily. But, when it's ready, I am full of satisfying to see the result.. It looks so lovely and it taste wonderful! Yummy! hehehe.. Here I have made six types of cookies for this Eid. Alhamdulillah all done already.
Tomorrow I need to help my mother cook few dishes for Aidilfitri. Ohhh kakak..when are you coming backkk home... Hari Raya won't be fun without you here. :( I just finished clean up your room. It's soooo tiring! I got flu now since there lots of dusts all over the room. MashaAllah..
penatnye
..
Oh! before I forget, our family won't be celebrating Aidilfitri in our hometown. So we have decided to spend
Raya
in Penang. Hum.. I don't really mind it actually. Plus, I have made few plans with my other friends here to spend
Raya
at their place and not forgetting at my house also. ;) wink~ Oh my...I really miss my aunt and my dearest cousin lutfiah in Spore so much. I am so sorry dear I can't make it to go there this time! But she has promise me that she will come here soon and spend the
Hari Raya Haji
with me! Great! I can't wait for that dear! hehe.. This is my first time celebrating
Hari Raya
without my love one. I guess I will miss those moment when both of us still together. And yes I do miss every single of it. Hum..
Perhaps, I maybe spend
Hari Raya
at my hometown which is Melaka on the 3rd of Syawal. Yeay! Fun! Fun! Unfortunately, it won't be long. :( We only spend one night there since we have few other things that need to be settle here. Tsk..
What ever it is, I want to take this chances wishing you guys
Selamat Hari Raya Aidilfitri Maaf Zahir & Batin
to all muslim. :)
//Wednesday, September 8, 2010 5:14 AM
Yeayy kuih raya ready!
//Tuesday, September 7, 2010 3:40 PM
Just a quick one!
Assalamualaikum and hello readers!

Just a quick entry. Since i was busy doing some houseworks here. How is everyone doing ? I'm sure all of you were very excited in making some last minutes preparation for Eid that just few days coming around. Time running so fast, we were leaving ramadhan and syawal is coming afterwards.

As for me, raya is nothing and neither nor fun to me. I don't know why. Celebrating Hari Raya are so much different when we getting older. I still remember how awesome was Hari Raya in my childhood time! It was so fun being a little kid! collecting duit raya, playing with fireworks, all our family are gathered. I really miss that moment so much. Just if I can go back to that time....

And as for today, I'm going to finish up baking some kuih raya. 3 are done and theres another 3 more left! wink~


//Monday, September 6, 2010 5:46 PM
Something that I should be aware of.
I kind of feel bad for never blogging, but after failing at multiple blogs before the creation of this one, it's to be expected that I'm not the best of bloggers. And, as always, when I remember that I should probably blog, I forget any interesting subject matter that I could possibly blog about.
So, here I thought like listing down few signs that I should be aware of in this particular of time.
With this never ending headaches I have been suffering.. Hum..
What warning signs should I look for ?
Agitated or restless behavior
Weight loss or gain
A drop in grades
Trouble concentrating
Ongoing feelings of sadness
Lack of motivation
Fatigue, loss of energy and lack of interest in activities
Low self-esteem
Trouble falling asleep
//Sunday, September 5, 2010 7:55 AM
The headache continues
Can I have just one day without migraine ? It's like I need to bring this heavy head everywhere I go..bad headaches.. and I can feel like somebody were punched my head with nails.. It's so painful..


//Friday, September 3, 2010 4:23 PM
When thing go wrong, just be strong.
When things go wrong, be strong is the lesson I learned the hard way. Problems are part of life. If we don't have problems, then we are not living. I guess these words made me realize that it's perfectly fine to have problems. Things won't always go the way we want it to be but our reaction towards it is still our choice. It's our value as a person that makes a difference.

I believe that everyone is wonderful in their own way. Maybe I just say these words to make me feel wonderful even for a moment. I guess I'm not perfect enough to do all the things assigned to me as perfectly as possible but I'll try my best to achieve excellence. A wonderful person never gives up.

Sometimes people lose their hearts and passion towards a thing if they continue to make mistakes. No matter how much they wanted to learn and improve in their particular field, guidance from a wrong person will make them lose interest. Maybe there is a need for encouragement from a person who is close to you.

I'm really thankful that today, a person I consider a friend helps me and motivates me to do better next time. I really respect her and follow her advice because I believe in her. I guess I have to be strong and face life's challenges. I know there are lots to come and insyaAllah I'm ready to face it. Allah always with us.. And I'm only seek for His guidances.


//Wednesday, September 1, 2010 10:19 AM
I Wish I'd Never (Original Song)


I'm in love with this song! <3
and I love her voice too :)
this is a song called I wish i'd never by kokokaina

Watching phantom planes go by
Sinking into the darkness of the night
The lady in the clouds is lyin' down
beside Chopin while he plays her the words of heaven

Red light beaming just a little over the green familiar hill
I still don't know how to control how i think, or speak, or feel

so...

I wish i'd never fallen in love...
so deeply
I wish i'd never knew that love...
actually exists

I got your letter today
told me that you're back in therapy
and i don't know why but it still concerned me

But they tell me what's the point of hurting
over something, that was nothing at all
I never used to be so gullible and vulnerable
but i guess with love nothing's impossible

so...

I wish i'd never fallen in love...
so deeply
I wish i'd never knew that love...
actually exists

You said that i was good for you but you pushed me aside
Now tell me does that seem right?
I've fallen for a pessimist
but God help me i tried
to get you out of it

so...

I wish i'd never fallen in love...
so deeply
I wish i'd never knew that love...
actually exists...

but i do now...
i do now...


// 2:40 AM
MILL band
Share this profile
Why is it so hard to find for a song by them ? A band called MILL. They are not a new coming underground artist but why their song aren't famous enough.. This is so unreliable..
I had tried searching here and there but still can't found anything. I only can listen it through myspace. how sad.. :(