The Mind Behind This
| home | facebook | myspace | twitter | formspring |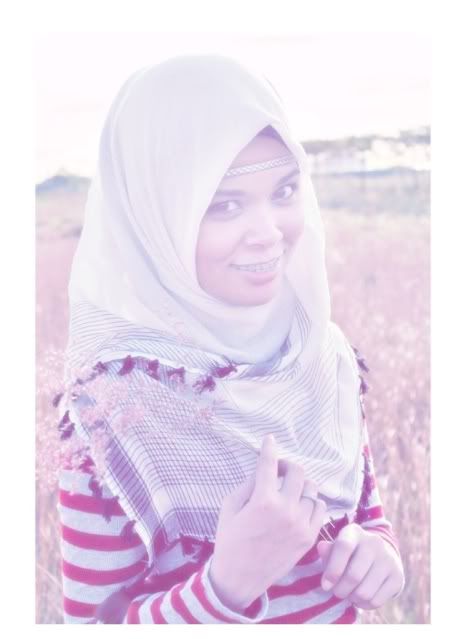 SCHA.
I am one of ALLAH's creation. :)
I am more of the suffer-in-silence type.
One with a tiny chunk of Internet to rant, reminisce and stick random things in.
I listened to this
Tagboard
Feedjit
Archives
//Thursday, December 31, 2009 5:18 PM
no mood
Hye everyone. Its a new year, but i dont have any new year resolution.. I countdown this new year with nothing interesting. Hate to tell u this. But i am so not in the mood aite now. I felt empty inside. How am i going to find places that i might choose to do my practical next sem. sigh.. :(


//Wednesday, December 30, 2009 9:49 PM
Happy New Year
I welcomed in the newest year,
Without a single other near,
No company, save for my own,
Forgotten, sickened, and alone.

I counted down along with me,
No friends to aid my revelry,
No love to give a hopeful kiss,
Or promises of coming bliss.

I found a hope to which I keep,
The fitful avenue of sleep,
Which leads me from the solitude,
With wild, fantastic interludes.

My celebration ends to night,
With other worlds, to my delight,
And, with some luck, they'll never break,
The dream from which I'll never wake.


// 9:46 PM
empty and bored
Nooo... I can't stop myself from eating when ever i feel empty and bored.
started to gain weight now. huh!
:(


//Monday, December 28, 2009 1:15 AM
Indifferent.
Time brings, all sorts of things. It brings love and family, and all the joy in the world. But time is also cruel in its never ending flow. I wish i could fight this pain inside but i cant stop myself from thinking of it. What else should i do to forget all these past. Its like bothering me all the time whenever i feel alone. All things thats remind me of our memories. I am confused, nothing has made me prepared. How i wish i could be strong enough n just leave it, but i cant. This trembling feeling inside that i couldn't hide.


//Sunday, December 27, 2009 7:25 PM
racist?
Salam. Hello readers. Suddenly, theres something crossed my mind n i cant stop from questioning myself bout this.

I'm wondering, why does people have to be so racist to each other..?

I've read someone status mentioned something that is too sensitive issue, which is he shouldn't say that in front others. It wont bring any goods but it shows how proud u are. A real snobbish person.

This is not ur own private community but this is an open community, everyone here comes from so many different races.

At least, plz show some respect n be more polite in everything u said. Dont hurt others feelings. Think before u say anything. Not everyone will understand it n take it as a futile matters. It is a serious issued n u don't have to mentioned it in front everyone n be so proud bout it.. Why dont we just stay where we are. Down to earth. Thats better i think. Just be urself. :)

Thats all for now.
Love u guys.


//Saturday, December 26, 2009 2:07 PM
Sad Story
Salam. Today effa nak share satu berita yg sgt menyedihkan.. Pukul 11 pg td umi sampai kn berita ni one of her fren yg stay dkt Perlis baru je kehilangan 2 org anak perempuan dia yg meninggal dunia dkt Ipoh, Perak..
Adik baru 15 lepas pmr n kakak sebaya effa bru 20, accident dlm bas express double- decker. Effa xboleh imagine mcm mn perasaan mak kedua arwah tu.. Bila effa dgr, effa sendiri xboleh control emosi effa. Mmg teramat sedih and im crying.. Effa cuma membayangkan mcm mn mak dia nak hadapi situation tu.. Sbg seorg ibu yg kehilangan kedua2 anak dia.. So sad.. Takziah bt keluarga arwah..
____________________________________________________________________________________________
Article dari paper Metro today
IPOH: Sepuluh penumpang maut manakala dua lagi cedera dengan seorang daripadanya parah apabila bas dua tingkat Sani Express terbabas dan melanggar pembahagi jalan di KM272.8, Projek Lebuh Raya Utara-Selatan (PLUS) arah utara, kira-kira lapan kilometer selepas Plaza Tol Ipoh Selatan, awal pagi ini.
Ketua Polis Trafik Negeri Supt Wan Abdullah Ishak berkata mereka yang terbunuh dalam kejadian jam 1 pagi itu adalah Shaharin Mohd Nor, 61, dan Supiah Adam, 46, kedua-duanya dari Taman Setia, Klang, Selangor; Musa @ Ismail Abdullah, 64, dari Gurun, Kedah; Mohd Shukri Mohd Ali, 22, dari Sungai Besar, Selangor dan Noor Jasmi Noordin, 25, dari Kangar, Perlis.
Mohd Bilal Osman, 22, dari Sungai Besar, Selangor; Ng Kah Kit, 14, Ng Poh Ngoh, 23, dari Alor Setar, Kedah dan Sharifah Raheel Al-Junid Syed Harun, 21, dari Sungai Petani, Kedah.
Bercakap kepada pemberita di sini hari ini, katanya identiti mangsa terakhir iaitu seorang wanita yang dipercayai berbangsa Melayu masih belum dikenal pasti.
//Sunday, December 20, 2009 3:33 AM
Kpd eya..
Hukhuk..td effa kena marah dgn za sbb dtg futsal walaupun xsehat.. :(
sorry aa..org teman kn ina jer..
plus kt rmh mcm bingit bosan bosan je, so why not klua hepi2.
kn? kn? kn? hihihi..
Thnx sgt2 sbb risau kn effa..
Terharuuu...
btw, effa syg za, kimi dan yg lain2 jugak!
Sy hepi! jgn risau!
=)


//Friday, December 18, 2009 12:34 AM
Glad
Happy Awal Muharram everyone! Let start this new year with something cheerful, happiness, new dreams, new mission n new achievement!

Oh! just now i watched for football challenge. nnnn Malaysia win!!! 1-0 Yeayyyyy!! after 10 years babe..our team finally win.. yeahh.. Proud to be a MALAYSIAN! guys! wink~

And now i'm single..just sit still while remembering all those memories back, even though i know i shouldn't feel that way. I gonna missed him. but, God knows everything. I will learned to forgive n forget. Just be strong effa. God willing. Insyaallah.
:)

Alright then.
Till here!
Luv ya!
:)


//Wednesday, December 16, 2009 12:08 AM
Bad condition
Hello everyone. How re u? Hope u guys doing fine each days to come.. Act im not feeling very well now.. I had fever instead of suffering flu, cough, sore throat n migraine.. Oh my..its very terrifying! I lost my appetite too during these days.. So tiring.. =(


//Sunday, December 13, 2009 11:57 PM
Great Sunday!
Salam. Hello everyone! re u guys having a great sunday today? me of coz! today effa going out with my umi to queenbay mall n we both spend quite a lot today! haha. First effa insist nak new shirt from padini just becoz padini buat dec sales.. So i bought 3 new shirt from padini.. Splendid! wink~

After that we search for my umi nye sandal. So effa try find yg suit dgn umi n finally i found it! A bright striking pink color for my mum! here u go pink! hehehe.. Just adore the color damn much..

Jalan n jalan lg until perut dah laparr...its time for pizza! huh! mmg aite now pun sgt teringin mahu makan pizza! Effa order lasagna n 1 regular pizza topping apa dah luper.. Gosh..that lasagna was sooo delicious babe! hihihi.. nnnn the worse part is the service is so poor! sgt2 laa lambatnya..

Finished our meal, we re now heading to bodyshop searching for perfumes.. Bought 3 perfumes from bodyshop for me, my big brother n of coz my dearest umi! I am sooooo exhausted today..but sooo hepi too!

Thats all for now.
Take care guys.
N be safe.
Love ya!
xoxo
=D


//Friday, December 11, 2009 2:28 AM
comin this 15th Dec!
Just now my umi told me about braces! she just meet up satu doctor ni n she asked me to come over to her clinic nak check up my teeth condition. Is it bad or not. Ah! where got teruk seh.. I look sweet okeh! for having those two canine tooth just like cullen family i said! im a vampire! hahaha. :"> (trying to make myself feel better..) Hopefully xmahal la.. yeahhh! nx week nak g check my teeth! then she will tell me how much it cost. Nk g checking je.. Who knows if umi bermurah hati nak kasi anak die ni psg braces.. lol!
Alrite then!
Till here.
Luv ya!
xoxo
=)
Labels: braces
//Saturday, December 5, 2009 3:33 AM
finally!
Finally! I made up my mind..i choose to buy sony psp 3000! the black one of coz! Im freakingly cant wait to have it! =)
Labels: psp 3000
//Thursday, December 3, 2009 10:09 PM
Sony PSP!
Arghhhh!! I want this thing damn much!! When can i own this psp! My saving still not enuf to buy this! I want thisssssssssssssss!but yg disappointed nya games xboleh hack.. aiyooo.. xbest2! beli psp 3000 jelah! =P
Here is some info about sony psp:

16GB PSP®GO (Black)
Smallest, lightest PSP™, weighing in at just 158g. Boasting all of the PSP's best features, with 16GB built-in memory, Bluetooth 2.0 wireless technology and a M2 Memory Stick Slot now added to the mix to compliment the great features that PSP™ fans love.

• 16GB built-in Flash Memory
• Sleek new design with sliding screen
• 3.8" widescreen LCD display with improved colour gamut
• Integrated Wireless 802.11b
• Bluetooth 2.0 compatibility
• M2 Memory Stick slot


Standard Retail Price:
RM 1,099.00 *

With built in Wi-Fi and Wireless Internet connection you can stay in touch with friends, watch your favourite TV shows and music videos, plus a whole lot more with PSP and PSPgo.


Remote Play
Using built in Wi-Fi and Wireless Internet connection from anywhere in the world Remote Play allows you to control and access content on PlayStation 3 with your PSP or PSPgo.
Using the Remote Play feature, you can switch on your PlayStation 3 from wherever you are, provided you have access to a Wireless connection and access photos, music and video files stored on your PS3 system's Hard Disk Drive. For TV fans, Remote Play also works with PlayTV, a peripheral and service that lets you watch, pause and record live TV from a huge range of free channels using your PlayStation 3.
Seamless PSP connectivity allows you to set recordings, and watch live and recorded TV programmes remotely on your PSP. Remote Play also works with VidZone, a free music streaming service packed with thousands of music videos from every genre; so wherever you are, you can take your favourite shows and music videos with you!
Skype™
Want to stay connected with friends wherever you are in the world? With Skype on your PSP you can do just that by making
free unlimited voice calls
to anyone else using Skype. You can also use Skype to make
great value calls
to landlines and mobiles using Skype Credit; or with a Skype subscription you can make
unlimited calls*
to landlines (and even mobiles in some countries). Stay in touch with everyone the easy way with PSP and Skype.
Bluetooth
For the first time on a PlayStation handheld, PSPgo features Bluetooth which allows you to connect your PSPgo to standard Bluetooth headsets and other Bluetooth devices. This means you can communicate with players across the world over using any Bluetooth device, as well as enabling you to connect to the Internet using a Bluetooth enabled mobile phone.
If you use this feature to connect your PSPgo to the Internet, you may be charged for fees related to the Internet usage or connection, so it's best to check your service provider's rate plan charges in advance.
Labels: sony psp
// 5:01 AM
kawan²
Hello guys! Gud morning! Its about 3.30am aite now effa started nak berblogging sebentar. Nothing much yg effa nak update pun.. Here got few pictures yg effa pick randomly dari semua.. First of all effa just nak featured my frens here. Effa sempat buat editing cket pada gambar2 ni.. Hope u guys like it! Enjoy urself! ;)
Za Zalea! also known as ebi eya.. Sgt comel orgnya! Used to lepak rmh eya last time.. Call her mother "mak"also hehehe.. At first kenal eya kt college nie ingat lg both mcm xfrenly sgt. N then after dah kenal..fuhhhh gile2 same kepala jek! hehe. Happening sggggttt!! Effa ingat lg last time kita g exhibition ada mcik tu kata kite kembar n ada pulak yg confused which one is effa n which one is eya.. haha funny! what ever it is...i love u babe!
Kimi
Kimi!!! has been called as kimi becoz of shes like eating ais cream yg namanya kimi! hehehe.. There she is.... sgt cool! sporting! happening! beshhh sgtttt! nak diajak ngumpat sume gerenti bolehnya lah! hahaha. But dun u ever make her mad...im scared! hehe.. A gud listener n always put herself in our situation.. Start kenal kimi since first sem lg..but xclose sgt mcm skrg la.. Remember last time our trip to kl? damn miss dat moment! bile bole g buat trip lg ek.. hurmm.. love u kim! =)
Fazrina
N now my little sister fazrina yg semakin besarrrrrrr...also known as ina! pandai dah skrg merepek sume bg la kt die.. dulu innocent bukan main.. hahahaha.. sape la yg ajar kn.. Always be there whenever i need her help.. Xkira masa.. sometimes g college together with her.. thnx my dear.. Luv ya hun! ;)
Annas
Mr annasan plus raizo plus superman! (extra marks for this k..) hehehe. Such a sweet guy n protective too! nnnnn always driving recklessly! ske drive laju2..(same goes with me la..) challenge siapa sampai dulu! haizz.. next time let annas win laa.. Worried if anything happen or accident mcm effa pulak.. risau..effa sudah merasainya..trauma! One more thing..effa always asked him for chewing gum! hehe.. Thnx iye! wink~
Azam
Ajam! jauhhh lg dah nmpk rambut die dulu.. hihihi.. =P sgt sportinggg sembang bukan2.. mmg ajamm aa tuuu..hahaha! Always jd mangse effa nak carik pasal.. tarik rambut pijak kasut..hehehe.. Sorry iye! Suke pow mcd eventhough effa thu mmg tak akan dapat. Hahaha! Selalu kena marah ngn eya sbb xbuat asgmt kasi siap! hahaha..poor thing.. =D
Shazril Irwan or...also known as mr caen! among all hes the older ..but sama kepala je gile2 jugak.. funny! suke make jokes.. mmg best lepak together. Im going to featured his gf here also. Lynda! both cute! selalu outing together. besttt! =)
___________________________________________________________
Finally.....im done! finished at 5.00am..
Full of satisfaction! LOL!
Go to sleep effa!!!
Last but not least, I love u guys a loooottt!
Take care.
=)
Labels: frens