The Mind Behind This
| home | facebook | myspace | twitter | formspring |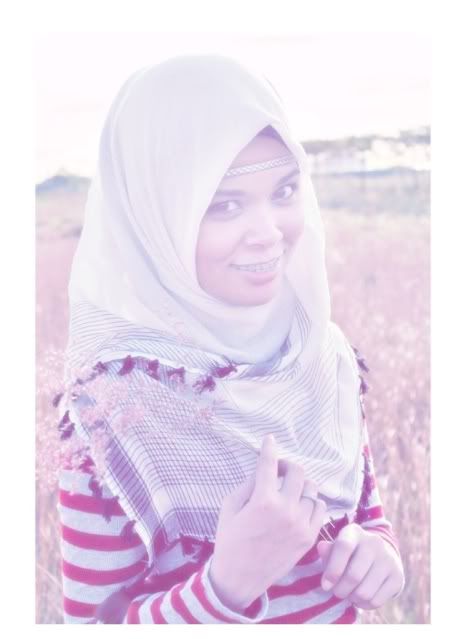 SCHA.
I am one of ALLAH's creation. :)
I am more of the suffer-in-silence type.
One with a tiny chunk of Internet to rant, reminisce and stick random things in.
I listened to this
Tagboard
Feedjit
Archives
//Wednesday, July 27, 2011 4:43 PM
Blablabla
Assalamualaykum w.b.t
5 Days Working.
Feels like time running so slow. 12 hours working feels like 20 hours here. Hahaha!

No customers. Everyday people just drop by and ask few questions about streamyx plan. That's all. The Taukeh (bos*) will definitely start nagging at me when he come back from overseas.

What ever lah bos.

Okay I am bored! Pleaseee I want to go out now! -.-'
//Monday, July 25, 2011 1:18 PM
To Be Honest Actually..
Assalamualaykum w.b.t
Hello people! How's your day? Mine.. abcdefghijklmnopqrstuvwxyz! Grrr!
To be honest, I am actually such a difficult person to get close with. Unfriendly person and sangat pendiam I can say.. And sometimes sangat garang. So it's hard for me to communicate with people, hard to convince people. And and.. I hate working when I have to give my personal phone number to people when they just want to play around, flirting and what so ever. Guyssss stop it! My contact number is my privacy. And I didn't earn any extra money to entertain you! Pissed off. PULL STOP!
Thank you.
Wasalam.
:)
//Saturday, July 16, 2011 4:11 PM
I Am Different.
"I like myself better when I feel much different than before"
I sick of being played. I am not a sweet person, beware. So i don't have to pretend to be that way. :)
//Friday, July 15, 2011 8:18 PM
Thoughts And Thinking.
"Sometimes people don't notice the things we do for them, until we stop doing it."
Assalamualaykum w.b.t
Hey there readers. Suddenly I start to think. Did you ever feel regret, sad, or anything when you are about to get closer to someone when you know that they don't really care about your presence? They can't understand how much you care for them. And that's what I feel now.. It quite disappoint me actually..
I have googled something, and I found this site. Which really helpful to understand yourself better.
http://www.lifeliteracylabs.com/meaningful-change/62-power-questions-you-should-ask-to-reconnect-with-yourself/
Thanks people. Take care.
Wasalam :)
//Thursday, July 14, 2011 7:17 PM
Nak Tahu Tak?
Assalamualaykum w.b.t
Hi semua :)
Nak tahu tak.. Yang sebenarnya saya ni JAKUN tahu.. Or else bole dikatakan kunur la jugak..
Haha serious saya mengaku and tak marah kalau ada orang yang kata saya jakun, sebab memang betul pun. Hee :D
Tahu sebab apa saya kata saya jakun? Sebab.. Saya ni tak fashionista nau macam gadis- gadis diluar sana. Contohnya?
1) saya memang tak reti dan tak teringin langsung nak pakai contact lense. Haha nak letak mata galak- galak warna hijau, biru semua tu. Haishh taknak laa..
2) saya tak reti pakai belt. Alahh belt yang gadis- gadis selalu pakai dengan blouse or dress kat luar tuu.. Haa maaf le saya tak reti pakai. Ngeee~
3) anything from kasut sampai laa ke tudung.. Saya tak suka benda yang ala- ala ada ber bling- bling gitu.. Yang kilat sana kilat sini berbatu bergemerlapan. Tudung ala- ala pokok krismas. Ohh tidak..
4) beg pulak? Haa handbag.. Saya bole je pakai handbag ni.. Tapi saya tak suka berantai- rantai. Lecehh seksaaa. Lebih afdal saya rasa selesa pakai bagpack je. Haha sebab spacious! Mana taknya, senang saya nak sumbat segala psp la wallet la and etc. Sesuai laa untuk saya yang semua harta benda kalau bole nak sumbat masuk dalam beg tu. Hahaha!
5) gelang yang ala- ala hindustan tu pun saya tak suka. Sebab bising! Terganggu rasanya bila nak buat kerja or bercakap. Bisingggg
6) haa ini lagi satu.. Saya ni lebih kurang macam enemy high heels jugak la. Hehe. Sebab saya memang anti heels, kalau suruh masuk majlis formal tu saya pakai tu pakai jugak la kekadang.. Tapi jalan hancurrrrr! Bersepah gile. Haha so lebih selamat kalau pakai flat shoes je. :)
Pokoknya saya memang jakun! Haha
Wasalam. ;D
//Wednesday, July 13, 2011 1:47 AM
Birth And Death.
Assalamualaykum w.b.t

Hello readers, how you guys been doing ? Hope everything doing fine. :)

Just recently I wondered why people have celebrations and anniversaries. There is a lot of celebrations and anniversaries to talk about, but let's talk about the two most profound celebration and/or anniversary a human could celebrate. People celebrate their birthday every year when they are alive.

What if one day… we never remembered such dates? What if there wasn't any birthdays to celebrate? What if we never celebrate birthdays at all? The day that you're supposed to turn older feels like any other day. Wake up, work, work, work, sleep. What makes your special day becoming as normal like other days when people actually forget your birthday. So no calls. So smses etc. So the routine continues. Work, work, work, sleep.

Wasn't that sound terrifying? But we won't know whenever death comes to us.. Just be prepared..


// 1:33 AM
Luck and Unlucky.
Assalamualaykum w.b.t. Well hello readers. How are you doing?
I just wondered why do some people have all the luck while others never get the breaks they deserve? Why are some people always in the right place at the right time, while others consistently experience ill fortune?
It's reveal that although these people have almost no insight into the causes of their luck, their thoughts and behaviour are responsible for much of their good and bad fortune. Take the case of seemingly chance opportunities. Lucky people consistently encounter such opportunities, whereas unlucky people do not.
Unlucky people are generally more tense than lucky people, and this anxiety disrupts their ability to notice the unexpected.
As a result, they miss opportunities because they are too focused on looking for something else.
Lucky people are more relaxed and open, and therefore see what is there rather than just what they are looking for. They are skilled at creating and noticing chance opportunities, make lucky decisions by listening to their intuition, create self-fulfilling with positive expectations, and adopt a resilient attitude that transforms bad luck into good.
I wondered towards the end of the work, whether these principles could be used to create good luck. But at the I found that the lucky people had become even luckier and the unlucky had become lucky.
All you need is just..
1) Listen to your gut instincts — they are normally right.
2) Be open to new experiences and breaking your normal routine.
3) Spend a few moments each day remembering things that went well.
4) Visualise yourself.
//Wednesday, July 6, 2011 10:40 PM
And When I Felt Down..
There are people out there who are introverts and can examine their thoughts and feelings privately and come out better for it. I am not one of those people and that is just how it is. I need to share my thoughts and get them out of my head.
But how?
By looking myself back in the mirror. I felt like there's somebody else in the mirror and that just not me. Besides seeking and asking from Allah.. I love talking to myself. Whenever i felt lonely, when i get in troubles, when i feel sad, when i feel odd, when i feel miserable, whenever obstacles running through me, when i feel bad, and when i'm down.. It's like i see somebody else in me.
And right now, I am down..
//Saturday, July 2, 2011 4:38 PM
Urghh What A Boring Birthday.
Well today is 2nd of July. To be frank, I'm actually forgot my birthday! Hahahaha. Luckily someone texts me last night, if not i won't remember anything at all. Thanks to him :). Okay, i haven't online my FB yet to see all the wishes. I'll surely read it later. Thanks fellows!
Strange how bored i was that i googled the phrase "it's my birthday" well because it is. i'm twenty two today. it feels odd. Its hard to believe I have spent 22 years on this Earth already.
I want to be optimistic for the future, nonetheless its always the same. I create the picture in my head that the next birthday will be good (not amazing, but to be content with) and then it's always a let down. Maybe my expectations are too high, but when only few friends remember to texts me wishing a happy birthday its gets me thinking.. just how many people care about my existence? Another year older; still never been loved.