The Mind Behind This
| home | facebook | myspace | twitter | formspring |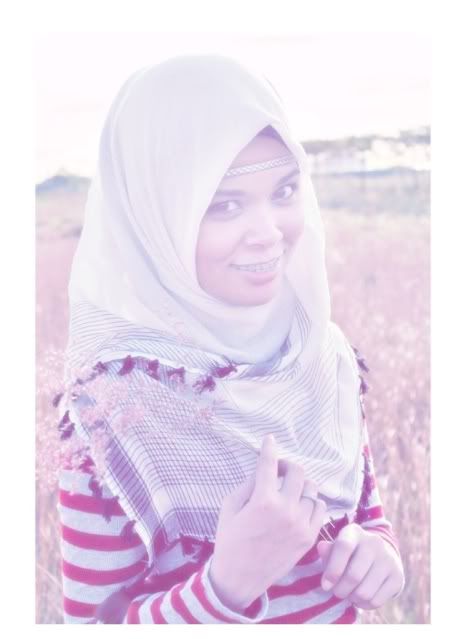 SCHA.
I am one of ALLAH's creation. :)
I am more of the suffer-in-silence type.
One with a tiny chunk of Internet to rant, reminisce and stick random things in.
I listened to this
Tagboard
Feedjit
Archives
//Monday, August 30, 2010 8:07 AM
Assalamualaikum w.b.t
Malam 10 terakhir ramadhan tibalah malam lailatul qadar.. Tanpa kita sedar ramadhan hampir meninggalkan kita.. Masih sempatkah lagi aku memohon keampunan dari Nya..? :(
"Ya Allah.. Tuhan yang membalik- balik kan hati kami..tetapkanlah kami dalam agamaMu.."
//Sunday, August 29, 2010 5:03 AM
A thousand apologies
I don't know if I
can explain to you truly
how sorry I am
how my heart aches when
I think of how awful I
was to you
I'm sorry that you still in my heart till now
I can't explain how lonely i was
and i know I should have been much more
sympathetic and less self- centered.
I'm sorry that I miss you.
I'm sorry..
//Saturday, August 28, 2010 3:18 PM
I'm trying to be nice..
But you're making it extremely hard
i guess i know what it feels like to be on the other side.
I'm sitting here trying to find the right words to write. But, between being too tired and over thinking last night, the words just aren't flowing as much as i'd like. I have tried to find the perfect line just for you try as i might. But none of the words i want to use, just seem right....
Hablun minALLAH wa hablun minannas
Rasulullah ada bersabda:

"Dua jenis manusia yg tiada dipandang ALLAH dgn rahmat nanti di hari kemudian, iaitu org yg memutuskn silaturrahim dan jiran yg jahat"

ingatlah walaupun kita menjaga hubungan dgn ALLAH, semuanya tidak bernilai andai kita memperlekehkan hubungan dgn manusia....
//Friday, August 27, 2010 10:10 AM
Salam Nuzul Al- Quran
Yok kita kongsi info! ;)
Antara peristiwa agung dalam sejarah umat Islam di bulan Ramadan ialah turunnya kitab suci al-Quran atau disebut Nuzul al-Quran.
Ia dirakamkan dalam al-Quran, melalui firman Allah yang bermaksud: "
Ramadan yang padanya diturunkan al-Quran, menjadi petunjuk bagi sekelian manusia, dan menjadi keterangan yang menjelaskan petunjuk dan menjelaskan perbezaan antara yang benar dan yang salah.
" (Surah al-Baqarah, ayat 185)
Peristiwa Nuzul al-Quran berlaku pada malam Jumaat, 17 Ramadan, di Gua Hira' tahun ke-41 daripada keputeraan Nabi Muhammad saw.
Al-Quran merupakan mukjizat yang paling besar yang dikurniakan kepada Nabi saw. Kita hendaklah beriman dan mempercayai isi kandungan al-Quran. Beriman dengan al-Quran merupakan salah satu dalam Rukun Iman.
//Tuesday, August 24, 2010 8:42 AM
Migraine please go away!
Assalamualaikum and good morning readers. Are you guys doing good this ramadhan ?
I don't know why I have been suffering like chronic headaches and migraines so often lately.
It's been forth time direct in one week. Ya Allah I can't stand this any longer.. Saketnyaaa...


//Monday, August 23, 2010 7:47 AM
Self evaluation
Did this ever crossed your mind..? Ask yourself those questions that need to be asked. Do an evaluation of where you are and where you are going. Let this evaluation lead you to feel happiness for the good you have done and remorse for the bad you have done.

Did i constantly check my intentions, to make sure that my good deeds were for the sake of ALLAH alone, not to impress others, gain their favor, or to show off...did i forgive those who hurt me... did i regularly seek Allah's forgiveness and mercy with sincerity, fear & hope...


//Friday, August 20, 2010 8:24 AM
Sometimes..
Assalamualaikum and hello readers.
Well, my life has had its ups and downs as everyone's has but these are the most important things i have learned here and how i have learned them.

1. Life can be terrifying but as scared as u are, chances are u aren't the only one sometimes other people
need your strength in order to get through it.


2. Everyone has a story to tell others what they have been through no matter how incredible, scary, horrible,
amazing things in their lives and MOST people are eager to talk about them to people that want to listen.


3. Sometimes when words fail all you can do hold on until they want to let go.

4. Beyond every bad day, and every horrible experience are people that love you and care about you. Laugh
with them as much as you can and when you look back try to remember those moments instead of the bad.

5. The good times wouldn't be as good if you didn't have the bad ones. Life isn't ever going to go according
to plan.. It's adapting that will turn you into the person you are.
And we should be thankful for what we have and we should be thankful for what we don't, so let's be thankful and say Alhamdulillah, ALLAH knows best. Alhamdulillah i feel more calm now..
//Sunday, August 15, 2010 2:47 AM
Break fast with ?
Hello everyone! How you guys been doing this ramadhan ?
Okay first of all, let's start with today event.
I am invited to attend one break fast event with Imam Muda Ustaz Muhammad Asyraf for majlis berbuka puasa and he also lead us as imam during solat terawih. He also gives us some taskirah after terawih.
Alhamdulillah i feel happy and touched when he reads his prayer. Without I even realize it, suddenly I was crying. SubhanAllah.. I was scared of azab Allah s.w.t in life in hereafter.
I pray that I can be a good muslimah. InsyaAllah..
Amin ya rabal alamin..
//Wednesday, August 11, 2010 2:13 AM
Ramadhan
Dari Ibnu Abbas ra, ada 7 petanda kebahagiaan dunia, iaitu :

1. Qalbun syakirun atau hati yang selalu bersyukur
2. Al azwaju shalihah, iaitu pasangan hidup yang soleh
3. Al auladun abrar, iaitu anak yang soleh
4. Albiatu sholihah, iaitu lingkungan yang kondusif untuk iman kita
5. Al malul halal, atau harta yang halal
6. Tafakur fi dien, atau semangat untuk memahami agama
7. Umur yang barakah – ertinya umur yang semakin tua semakin soleh, yang setiap detiknya diisi dengan amal ibadah.

Allaahumma baariklanaa fi Sya'ban wa ballighnaa Ramadhan.
InsyaAllah..mudah- mudahan ramadhan kali ini lebih barakah dan mampu dilaksanakan dengan penuh keinsafan. amin..
Selamat menjalani ibadah puasa kepada semua umat Islam. :)


//Friday, August 6, 2010 11:39 PM
Syukur saye sudah dapat!
Hello everyone! I am so happy today!
Finally I have been accepted for training as photographer position.
Job that I always dreamed for. heee. :D
Ya Allah syukur.. Alhamdulillah..
// 7:34 AM
:)
Siapa yang mendamaikan dua orang yang sedang bersengketa Allah akan memberikan pahala untuk setiap kalimat yang diucapkannya sama dengan memerdekakan budak. - Anas r.a


//Tuesday, August 3, 2010 9:09 AM
LOL
// 12:10 AM
Can't wait
Hello dear readers. I just realized that time flies so fast! Yesterday is now a memories. I still remember all the past year i have left behind. I missed all the time i have spend..
And now we already in August and Ramadhan is coming ahead to greet us in just few days around. I am so excited waiting for Ramadhan! =))
//Sunday, August 1, 2010 9:10 AM
A hungry lady
Good morning everybody. have you all had your breakfast yet ?
I'm having my meal here. Meggi anyone ? haha. I haven't eaten anything since yesterday. Oh my i'm starvingggg here..

Yesterday i'm going out with my mom for dinner. The restaurant was fulled and crowded!
luckily theres still a sits left for us. After making an order we wait for about half an hour.
And suddenly black out! Oh great =_="

So, we leave the restaurant and went to some other place.
Ok i wonder why it is so hard to find for foods last night.
Hum, now got one place! make an order and ? wait.......again! for 1 and the half hours!OMG.. (saba effa..saba..)

Ok I am such an impatient person so i've canceled my order and later only waited for my mom's meal.

On our way back home, we drop by to buy some burger to bring back home.
Again! wait..40 minutes! (saba effa..saba..) i said to myself.

At time we arrived at home, i run to the freeze and found something to eat! :)
I was so happy! But then.. it's basi already! haizzz.. tsk..

And so, I end up sleeping.. Zzzz..


// 8:41 AM
Haha and so I have no idea why
Salam dear readers. Good morning to all of you! :)
This entry is about my new playlist song from Nawal Al Zoghbi call Al Layaly.
She's an Lebanese artist from a place call Beirut.
I just don't know why I love this song so much ever since the first time I heard this song.
I kept humming her song none stop! haha
Sorry if it kind the annoyed you guys here.
I just freaking love this song! hehe
__________________________________________________________
El layali ragaitni tani,
The nights brought me back again,
Hob qalbi min gideed.
And renewed the love in my heart.
Baad ghiba, gani, rah nadani.
After he left, he came back and called for me.
Khala omri kolo aaid.
And made my life start anew.
Chorus:
Kont fein ya shaghili hawaya?
Where were you? You who stole my love?
Kont fein yalli qalbak maaya?
Where were you? You whose heart I possess?
Layali, layali, layali.
Nights, nights, nights...
Hobak, ya ghali, ghayarli hali.
Your love, oh precious, changed my entire outlook.
Alla shoqi leik, bashar wa banam.
Your love keeps me awake and lulls me to sleep.
Alimt rohi tihwak, ya rohi.
You taught my soul to love you, oh my soul.
Wit dooq maak agmal gharam.
And to taste, with you, the most beautiful love.
(Chorus)
Law ghibt aani lahza bitewhashni.
If you're away from me for a second, I miss you.
Wandah aleik tool el saat.
And I call for you through the hours.
Wayak ya omri, ihlaw omri.
Because of you, oh my life, my life became joyful.
Wa rigeili beek omri elli fat.
And with you, I regained my lost life.