The Mind Behind This
| home | facebook | myspace | twitter | formspring |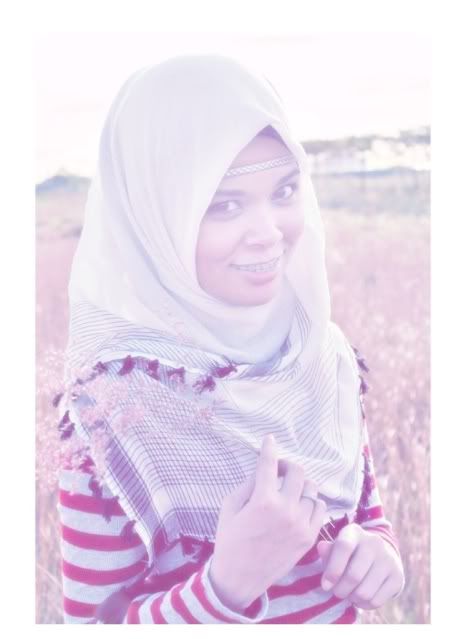 SCHA.
I am one of ALLAH's creation. :)
I am more of the suffer-in-silence type.
One with a tiny chunk of Internet to rant, reminisce and stick random things in.
I listened to this
Tagboard
Feedjit
Archives
//Monday, February 21, 2011 12:36 AM
Seriously I Don't Know What To Decide.
Assalamualaykum w.b.t
Well hello readers ! How you guys been doing ?
So, here it comes.. First and foremost, this entry is in regards to career or what courses I am looking forward. Honestly, I am lost in what to choose now. I am into arts thing but frankly speaking, I am sick of designing materials. I don't know why but it seem no longer fun with me now. Grrrr ! Oh my.. Probably because pretty bored or something. Or lack of ideas in between. Hurmm.. I just really don't want to be stuck in a job that I'll end up hating or feeling tired doing all the time.
I don't know what courses to pursue or what I'll truly be happy with. Ohh sorry I just lied.. I do know what I really wanted to be for all this while.. I am sooo eagerly loveeeeee to fly up to the sky. Experienced myself flying.. Wearing those white long sleeves with galons of shoulder strings.. But I am afraid if I might be one of the unemployed graduates since the fees is too highly expensive. I am too scared right now if I might made the inaccurate decision.. Seriously I have been waiting for so long to be just like one of them like mad people sometimes you know..? It seem sparked with my interest. I adore this profession so much.. :(
What can I do.. After all maybe I will be continuing taking the same course like before. tsk :(
//Friday, February 18, 2011 4:43 PM
12 Things I Hate The Most.
I hate receiving ton of random same messages each days because it makes me sick ! Believe me I am sick now.. =.=''

I hate texting because it will be much more easier with calling.

I hate being forced by someone doing something I am not interested.

I hate it when people keep accused me having an affair with someone when I am not.

I hate being upset and pissed off.

I hate being stress because it will end up giving me headaches.

I hate people who easily judged others.

I hate people who love to talk but never listen.

I hate it when people keep recognized other's mistakes but never to themselves.

I hate people who talked shit and so rude !

I hate hearing people shouting and quarreling !

I hate being confused.
//Friday, February 11, 2011 10:12 PM
I've Learnt
I've learnt that sometimes there is only one side of the story.
I've learnt that nothing should be left unsaid.
I've learnt that a little praise goes a long way.
I've learnt that sometimes the best music is silence.
I've learnt that with dreams on will make you feel so much better.
I've learnt that no matter how small your feet, there will always be a shoe that fits.
I've learnt that everyone has that one special person who breaks their heart.
I've learnt that the one thing I can trust in life is my instinct.
I've learnt that everyone's life looks better than mine but no one's life is easy.
I've learnt that the grass is always greener on the other side.
I've learnt that the most beautiful smile in the world is that of a child.
I've learnt that when I feel good, I look good.
I've learnt that the best thing about humans is that they forget and move on.
I've learnt that sometimes crazy is all right.
I've learnt that the more I try to control situations, the worse they get.
I've learnt that PMS is a part of life.
I've learnt that time can pass by in a flash when I have a good book to read.
I've learnt that it's okay to make wrong choices and wrong decisions.
I've learnt that if your faith in Allah is strong, no situation is too great to overcome.
I've learnt that people choose to hear what they want to hear.
I've learnt that hopelessness is the worst feeling in the world.
I've learnt that some people simply don't deserve a second chance.
And last but not least, I've learnt that shit happens – move on
P/s: The matters of fact, I don't delete..? because I have already burned out everything more earlier, and... I don't remove..? because I have completely thrown away everything as well. Yeahhh feeling great and sooo much better released now ! You go girl ! ;DD
//Wednesday, February 9, 2011 3:58 PM
Do I have to do healths check up ?
Or it just a little unwell.. My body decided to fall ill today. It's been pretty some time since I last fell ill and now it feels so weird. Lack time of sleep. Migraines. Tense really give me heavy headaches. Feverish feeling I have from the top of my head to my toes.
//Sunday, February 6, 2011 2:41 PM
Dugaan..
If ALLAH brings you to it, He will bring you through it.
Happy moments, praise ALLAH.
Difficult moments, seek ALLAH.
Quiet moments, worship ALLAH.
Painful moments, trust ALLAH.
Every moment, thank ALLAH.
People can make you laugh and cry at the same time
You can love and hate people instantaneously
There are people who touches your heart deeply
Then there are those whom you wish never existed.
Some people see you
But you never know that they were ever there
Some people whom you wish to see you
But they walk passed you like the wind which breeze through.
We judge people
Too arrogant, too selfish, too fierce, too inconsiderate
Too fat, too thin, too ugly, too this and too that
Why do we even do that ?
People are never perfect
Just like our very selves
It is the people's imperfection
Where we learn the beautiful from the ugly.