The Mind Behind This
| home | facebook | myspace | twitter | formspring |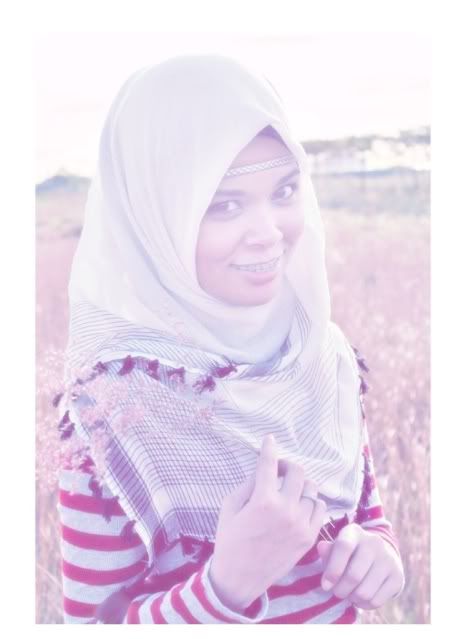 SCHA.
I am one of ALLAH's creation. :)
I am more of the suffer-in-silence type.
One with a tiny chunk of Internet to rant, reminisce and stick random things in.
I listened to this
Tagboard
Feedjit
Archives
//Friday, January 22, 2010 5:55 PM
IF I die tonight
If I die tonight
You know we'll be alright
Just smile for me
Reminisce the fond memories
I spend the last day,
I don't know
Try to do a million other things
Hoping somehow time will slow
I guess what I'm trying to say is
Take everyday like it was your last
And work towards your dreams before you pass
And have a blast while you're at it
'Cos we don't know when we're gonna go
So make the best of it
Just keep it real to yourself
And to all people, if y'all lost somebody before
Remember they'll be to see you
Well, if I die tonight I wonder where I'll be tomorrow
Nobody cry, please push away the sorrow
Cos I have been the best of girl
The best of friends
The best of mum and daddy's last daughter
The best of anything
If I die tonight
Will I be forgiven
For all the people
I've been slackin' with when i was livin'
Those who I've hurt their hearts
Took advantage of and even lied to
Hug you one last time for forgiveness
Yea, I would like to
If I die tonight
Would you feel the loss
Tomorrow would you dial my number by accident
And then suddenly paused
If I died tonight
What wouldcha think of my room
When you see blue
Wanted to clean it up this morning
But then I never knew
Your loss taught me not to take my friends for granted
Misunderstandings gotta slam them quick
Death you never plan it
You're sorrowly missed down here
Warwin rest in peace
This too shall pass
But our true friendship will never cease
Love

(lyric)
p/s:

The lyrics emotionally give deep meaning to me. I have never thought if i die tonight what i going to do. I started to think about how we going to face a life in hereafter.