The Mind Behind This
| home | facebook | myspace | twitter | formspring |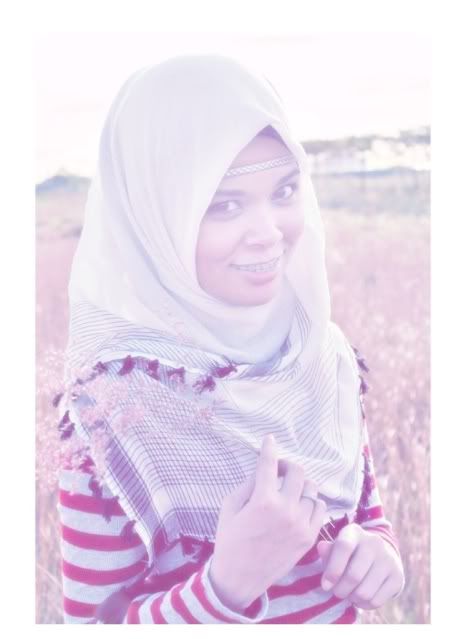 SCHA.
I am one of ALLAH's creation. :)
I am more of the suffer-in-silence type.
One with a tiny chunk of Internet to rant, reminisce and stick random things in.
I listened to this
Tagboard
Feedjit
Archives
//Thursday, October 13, 2011 11:59 PM
I Am Changing! HAHA
Assalamualaykum w.b.t
Well, I am changing. I can feels that inside me are so completely different now. There just so many things that I used to hate freakingly are getting near to me and become one of my first row of obsessions. As you know I'm going to be 23 years old by next year. Getting older and older each years to come.
Anyway hello peeps! How you guys been up to lately? Hope everything fine. :) Okay personally I have no idea what I'm going to write right now. I have nothing inside my mind. It's completely empty. So the storyline of this post might sound a little bit so random things. Hahaha! But I don't really mind it because it's been ages! since I last post anything up here. And, sometimes I did thought like wanted to stop blogging and end this since i don't have anything interesting to share with all the readers. Part from that, I'm some kind of lazy to updates. Heee :P I bet you guys did think this blog was so boring right? I guess me too as well. Hurmm. Hehe
Okay, actually I am getting obsessed with Twilight so much recently! I can't believe it! Seriouslyyyy don't bluff! Hahaha! I used to hate it so much before. I remember last time I went to see the movie with my friends. I have never missed any series starting from twilight saga, new moon, until eclipse came out. But unfortunately I don't get Twilight fun until I falls asleep while the movie was on the screen. Hahahaha! Teroknya saya!! I found that the movie was so freaking bored and it's only makes me wants to sleep so much. Hahaha!
But now? I don't know what is really happening to me and why I was like damn! this movie was awesome! I keep on watching all the series all over again and again. I can say I am so addicted to it. Feels like I am fallen in love with that vampire too! Hahaha! Silly me..
However, I'm going to watch new moon again to night. Heee.. Good night you guys!
Have a beautiful dreams!
Take care.
Wasalam.
:)