The Mind Behind This
| home | facebook | myspace | twitter | formspring |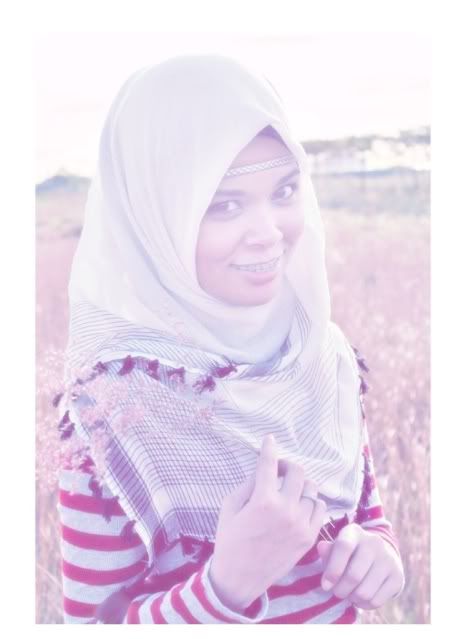 SCHA.
I am one of ALLAH's creation. :)
I am more of the suffer-in-silence type.
One with a tiny chunk of Internet to rant, reminisce and stick random things in.
I listened to this
Tagboard
Feedjit
Archives
//Wednesday, November 2, 2011 2:44 AM
Sorry...
Assalamualaykum w.b.t
Okay, it's a very fast update here! Just now, I just dropped in on one of my old friend's blog. Okay the thing is, he is a photographer. But, apparently, I don't know why I can't find his artwork interesting to my point of view. It doesn't catch my eyes. It looks so fake, unrealistic, and over edited. But, I don't straight forward claim that I don't like his art work. I usually give some positive responses since he is a friend of mine. I don't want him to feel tan and uneasily with me in a mean time ruin our friendship as well. I can't disappoint my friend.. In fact, everybody loves his art works.. So, I've decided not to say anything that might turns out worse.
But, it happened last time when I leave some comments on one of his photos taken by him that could be an issues now. I mean. To me. Yes it is. He's asking for my opinions about editing stuff and lighting features which is the most common basic important aspect in photography method that everybody need to learn if they're interested to know. Well, I admit it frankly I am barely not good enough to speak out all about it since I am not a professional photographer and I wasn't even plan to be one either. I only took basic lessons in photography when I'm taking my diploma last time. And I'm considering it as an hobby to me now. That's all.. But, what I did is just a random thoughts and comments where all people outside might think as well, their first impression when they saw the pictures. Unfortunately, It's not what I'm intended to do, to voiced out what did really crossed my mind in that periodical time. But it just a few minutes now, I found out, he print screen the comments and post it on his blog, and it happened last year! How come I don't know anything about it? Oh my.. No wonder he seems kindda different and very tan towards me. I feel so bad.. Seriously bad.. I can feels that he is not fully satisfied with my opinions. After once and for all..
And now I'm scared. Is he mad at me? I am literally apologize to him if I spoke out of turn.. I am so sorry pal.. :(